10%Valnemulin Hydrochloride Premix
Valnemulin HCL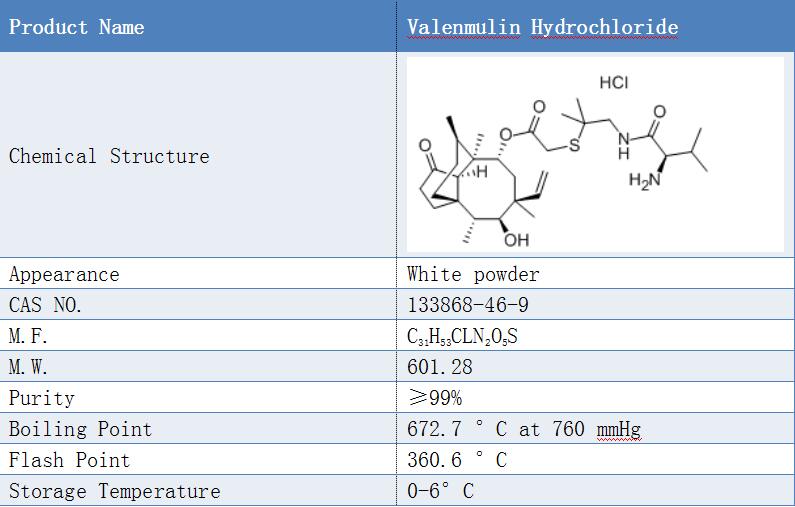 一、Function:
Valnemulin mechanism of action is inhibition of bacterial protein synthesis at Ribosome level,high concentrations also inhibits RNA synthesis. Is mainly bacteriostatic,bactericidal in high concentrations. Broad antibacterial spectrum,valid for G+ and g-bacteria,Mycoplasma genus and is highly effective and low effectiveness on intestinal bacteria such as Escherichia coli,salmonella.
1.Swine dysentery,pig colon spirochetosis. Prevention:every 1-1.5 mg/kg body weight,continuous feed 4 weeks; Treatment:every 3-4 mg/kg,even the hello 1-4 weeks.
2.Porcineproliferative enteropathies. Prevention:every 1.5- 2.25 mg/kg body weight,even feed two weeks;Treatment: every 3-4 mg/kg,2 weeks or until the symptoms disappear.
3.Swine Enzootic Pneumonia. Prevention and treatment:every 10-12 mg/kg body weight,even feed 3 weeks.
二、Valnemulin hcl premix
Descriptions of valnemulin hcl premix
●Valnemulin Hydrochlorid is a new type Antibacterial drugs for animals,a new class of semi synthetic animal antibiotics,belonging to two terpenes.It's the same kind of Pleuromutilin.
●Featuring: broad spectrum,strong antibacterial activity,good pharmacokinetic characteristics,not easy to produce drug resistance,low residue and safety.
Our advantage
1.Quick response,remarkable effect.
Oral absorption,absorption rate is greater than 90%, after 1-4 hours to reach the highest plasma concentration,half-life of 1.3-2.7 hours.
Valnemulin mainly concentrated in tissues,especially in lung and liver,bioavailability up to 90%, widely excrete in pigs,the main metabolite are bile and feces.
2. Effective and safe,no residual
Conduct residual elimination test,use liquid chromatography-mass spectrometry method,detection limit is 1µg/kg,limit of quantification is 2µg/kg.
The results showed that after the final dose of 24h,residual of valnemulin hydrochloride in muscle, kidney,liver and adipose tissue were 2.56µg/kg、23.73µg/kg、51.28µg/kg and not detected.All of data are lower than EMEA maximum residue limit (MRLs),thus the withdrawal period of Valnemulin was set in 2 days.
3. Wide antibacterial spectrum,not easy to produce drug resistance
●Have effect on G+ and G-;strong antibacterial activity on varieties of Mycoplasma,Streptococcus ,Staphylococcus aureus,Actinobacillus,Pasteurella,hyodysenteriae,colonic bacteria in animals.
●The sensitivity to common baterial strain is 40-50 times higher than tiamulin.
●Valnemulin HCL is a very sensitive and efficient model for animal antibiotics.
4.Special process; Good palatability;no irritation.
Indications:
For the treatment of infectious animal diseases,especially for swine dysentery,swine mycoplasma pneumonia,diarrhea and the treatment and prevention of excellent results.
Pharmacological effects:Valnemulin is derivative of pleuromutilin,is diterpene semi-synthesis anti-biotics,is homologous compound of Tiamulin. The mechanism of action is combing with ribosomal 50S subunit of pathogenic microorganisms,Inhibiting pathogenic microorganisms protein synthesis and resulting in the death of pathogenic microorganisms.
Corresponding parameter set not found, please add it in property template of background
暂未实现,敬请期待
50%Tylvalosin Tartrate Permix