20%Tilmicosin Granular Premix
Tilmicosin Premix(enteric-coated)
Tilmicosin cas no.: 108050-54-0

Chinese top 10 manufacturer for veterinary APIs;self produce high quality tilmicosin to make premix formulations.
GMP certificated;
Factory direct supply,quality and price gurantee;
Tilmicosin Granule premix 40% 20%
一、Descriptions:
Tilmicosin is a type of macrolide antibiotic that is semi-synthesized from the tylosin hydrolyzate.
二、Features:
A.Potent enteric effect, precise release.
Potent enteric effect with no harm to gastric mucosa,96% drug release in intestine,less than 4% release in stomach.Good for animals' stomach,avoid irritation or other undesirable phenomena to gastric mucosa;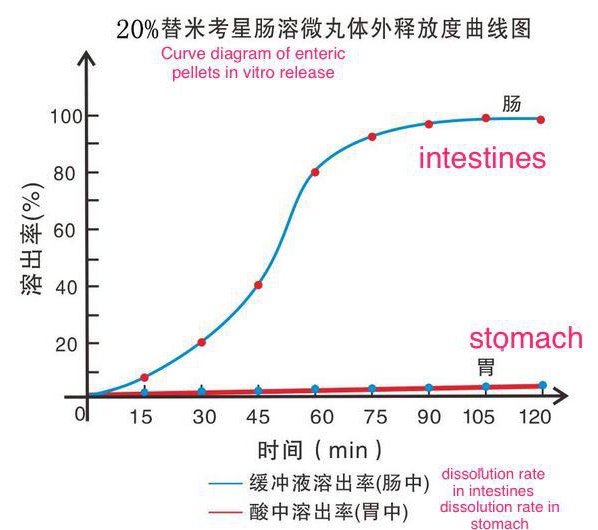 B. Advanced Coating techonology and entrapment efficiency achieved to 100% which means it can totally cover the drug bitterness. Good palatability can ensure the drug effect.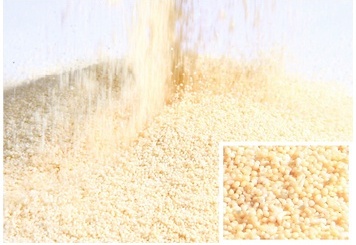 C.Convenient for mix with good liquidity
D.Prevent and control PRRS(porcine reproductive and respiratory syndrome)
Note:PRRS virus can be mainly replicated and survive in the acidic environment through alveolar macrophage AM.
Changing their surviving environment can adjust cell function and enhance resistance to PRRS virus. Tilmicosin can change acid condition helping AM to digest PRRS virus. Function as follows:
三、Functions:
Prevent and cure porcine respiratory and intestinal infection caused by sensitive bacteria, such as Haemophilus suis、Mycoplasmal pneumonia、Trilogy(endometritis/mastitis/PPDS). It's suitable for prevention for PRRS.
四、Dosage:
Prevention:500g drugs in 1000kg porcine food and continue 7-14d.
Treatment:1kg drugs in 1000kg porcine food and continue 7d,then cut half in the following week.
Tilmicosin Premix(enteric-coated)
Longxiang 20% Tilmicosin premix, four layers coated with synergist as well as cellulose-soluble enzyme which is purifying the airway mucus.
Features:
1.No bitterness and have no effect to feed intake when the first and second layers of coating are dissolved in mouth.
2.Stomach insoluble,no harm to stomach when the third layer of coating is dissolved,anti-acid;
3.Intestine soluble,quick release in intestine when the fourth layer of coating dissolved with enzyme-resistant.
How to identify whether is four layers and enteric-coated?
1.Character:Granular
2.No bitterness in mouth
3.Put the particles in cold water for a week,drink with no bitterness.
4.Drop vinegar to stimulate gastric acid environment,with no bitterness.
5.Add baking soda (simulated intestinal environment),bitter.
6.Particles are uniform,good dispersion in feed,easy to mix evenly.
If it's powder appearance,or bitter in mouth, that is not coated or just granulation;
If put into the water for one day,drink bitterly, that is not coated completely;
If drop vinegar resulting in bitterness, that is stomach soluble;
If add baking soda drinking with no bitterness, that is not easily dissolved in intestine.
Corresponding parameter set not found, please add it in property template of background
暂未实现,敬请期待
10%Enrofloxacin Soluble Powder